Plant Hire Near Me

Shrewsbury, Telford, Shropshire
Are you looking for Plant Hire Near Me?
We offer the best prices for mini digger hire, dumper hire, tractor hire, telehandler hire and more.
J T Richards has been in business for years, since 2001. With a good reputation and high customer satisfaction, we strive to meet your needs- just a phone call or email away. We look forward to speaking with you soon.

For your plant hire needs: digger, dumper, roller, wacker plate, rotavator, generator, lighting tower, flail mower, cement mixer, power barrow, compressor, floor/ Stihl saw, concrete pecker, hydraulic power pack, post hole borer, concrete poker, jumping jack, car trailer, tipping trailer, general-purpose trailer, wood chipper, stump grinder hire.
We are experienced in the industry and can provide you with the best options in terms of pricing for short or long-term hire.
You are welcome to phone us on 01743 290523 or 0797 080 2947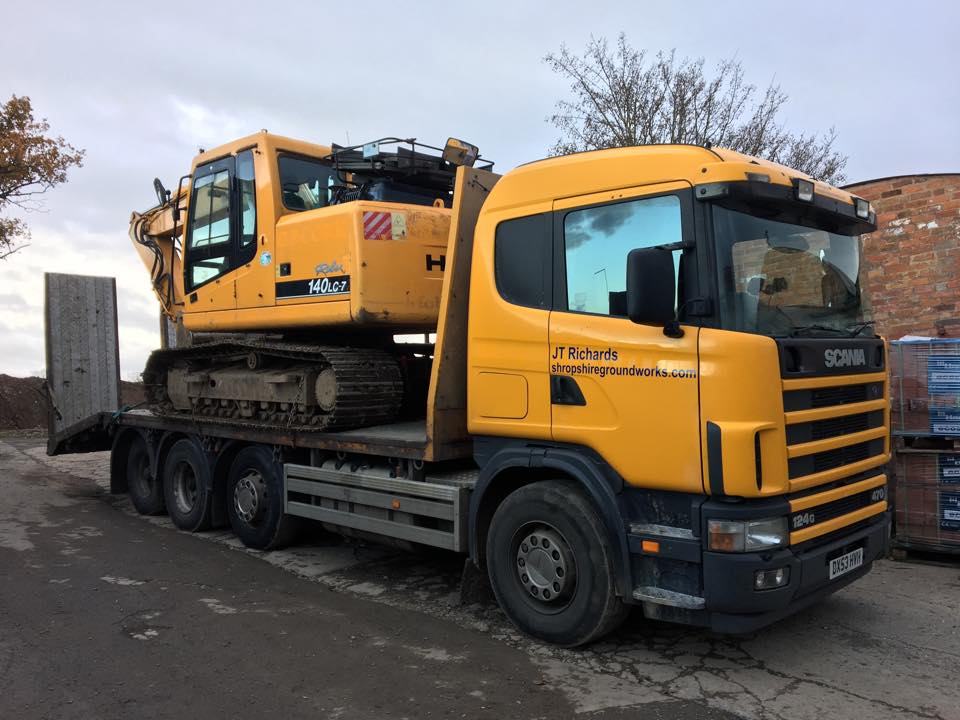 As part of our plant hire services, we offer various equipment and vehicles for hire.
This includes digger hire, dumper hire, trailers hire, and more. This means you can handle projects of all sizes.
Our equipment is also available in various sizes, making it easy for us to assist you with various sized projects.
For more information on offers and sales, please contact us on 01743 290523.
Mini Digger Hire:
A mini digger is a smaller version of the excavator and is generally used for smaller buildings and most garden environments and landscape jobs.
Though it is smaller, it is still easy enough to move and more than capable for general uses. Some customers might find the controls on a mini digger are easy enough to learn to be operated relatively easily.
Our company offers many different Mini Diggers with each one changing weights, and each one can hold more loads than before, the higher the weight of the Mini Digger goes.
Excavator Hire:
Construction excavators are very popular machinery when trying to move large amounts of dirt.
The excavator contains a bucket-shaped digger arm that removes large chunks of land from the area. Due to its size and mobility, the excavator is capable of creating reasonably sized ditches as well as removing waste rubbish and transferring most of this to a different location.
Sometimes, they can work with a dumper, allowing the excavator to move the dirt into the dumper without hindering itself with where it can put the land.
Dumper Hire:
The dumper is mainly used to move materials like sand, dirt, rocks etc. This machinery uses hydraulics to lift a skip and hold it in place while the machine moves around the site.
Then it releases the materials in a different location by titling the attached skip forwards slowly and waiting for it to leave the skip. The skip is located in front of the driver.
Tractor Hire:
A tractor generally has a bigger holding capacity for materials such as sand or dirt than the excavator. However, the tractor is capable of doing some of the same jobs the excavator can.
A tractor is hindered by its verticle movement due to its limited control other than up or down. It is why it is used to move decent quantities of materials.
Telehandler Hire:
A telehandler is a machine that has an excavator body but a forklift feature on the front so that it is capable of send materials to places which, in any other circumstance, would be a bit difficult.
They are also able to lift more than a forklift. Some telehandler can take other machines and put them on as their own, including a digger arm from the excavator so that you can remove dirt from the ground.
Telehandler is great for heavier than usual items to be moved or placed in areas that might be difficult to reach.
Vibrating Roller Hire:
A vibratory roller is a machine that uses drums which are used to compact granular materials such as sand, gravel and asphalt.
The speed of these rollers is relatively slow, significantly when they are flattening the ground. These are more commonly used when trying to create a road or a path.
When the vibratory roller is being used, the roller cannot go faster than a walking pace of around 4mph.
Mini Diggers and Dumpers for Hire
We also have tools and equipment available for smaller plant or garden services. It includes hydraulic breaker plates, concrete forms, concrete mixers, and accessories.
We have long-term rates available as well, which is ideal if you have to hire equipment for weeks or months at a time.
Are you looking for plant hire in Shrewsbury, Telford, Shropshire and the surrounding areas? Book today on 01743 290523.
OUR LOCATION
Hanley House, Hookagate, Shrewsbury,
SY5 8BE
OPENING HOURS
Mon - Sat: 07:00 - 18:00
Sun: 10:00 - 12:00
STAY UPDATED
Follow us on: